How Team Vitality maximises visibility for 11 partners through 20 streamers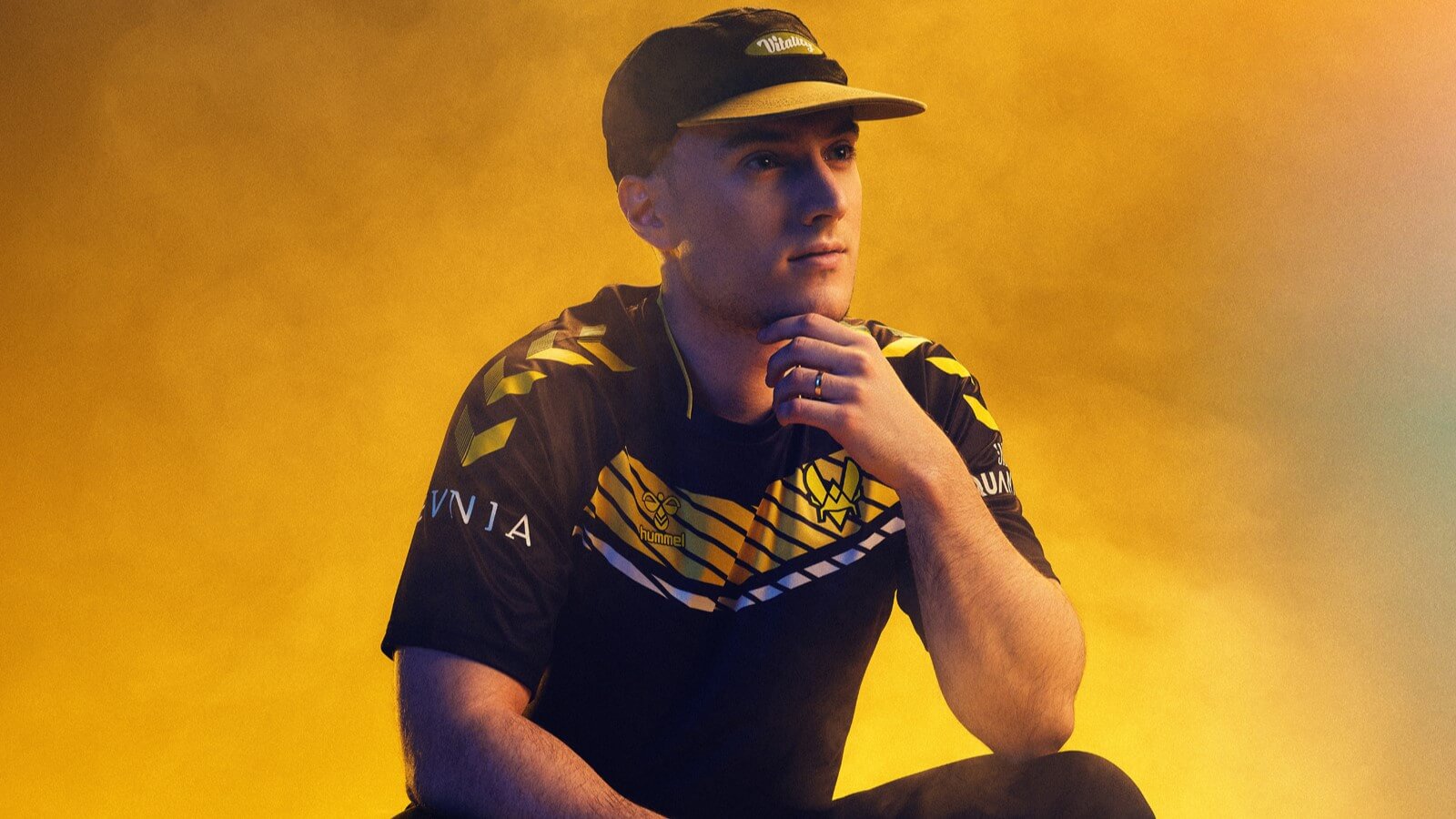 Team Vitality is one of the most influential and successful esports clubs globally. The French team competes in the most prestigious tournaments in League of Legends, Counter-Strike: Global Offensive, Rocket League, VALORANT, and FIFA regularly.

Streaming and content significantly affect Team Vitality's business and community building. The French organisation can offer their partners additional ways of promotion while getting a new source of revenue. That way, the whole Team Vitality can grow.
The problem
However, managing a nearly 20-strong Twitch streamer network was challenging and time-consuming for creators, players and their managers. Using their full potential to promote partners was a demanding activity as well.
The solution
To maximise the visibility of all partners, manage a large group of streamers effectively, and automate existing processes, Team Vitality started using Streamcoi. Streamcoi automates streamer management and monetisation. A manager can use a simple dashboard to take care of multiple streams at once.
Let's dive deeper into how Team Vitality automates its work with streamers.
Building brand awareness
Team Vitality's partners get a wide range of different activations. Their logos are displayed during live streams to build brand awareness of companies like hummel, Tezos, Evnia, or SecretLab among the gaming and esports audience.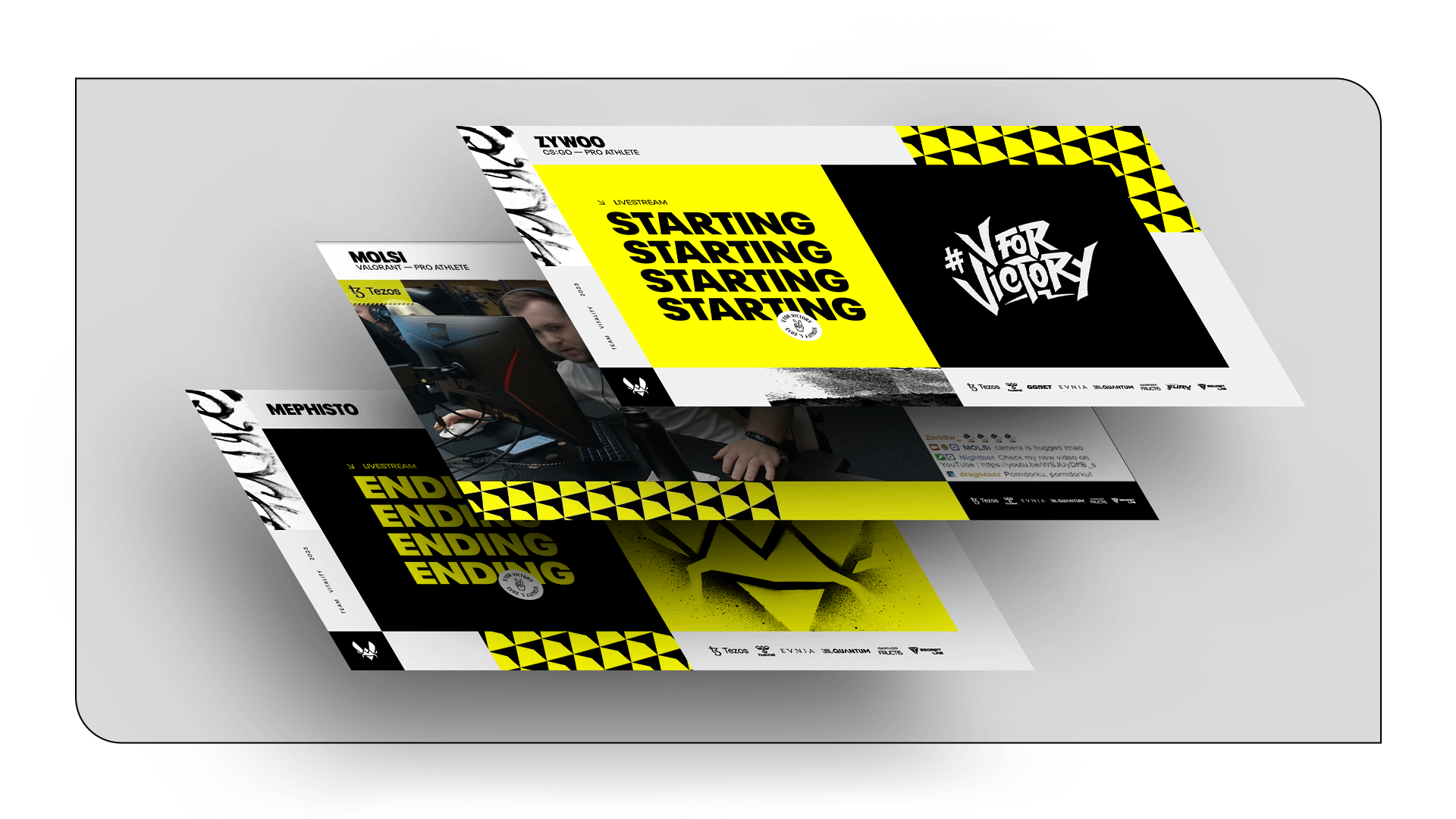 To distribute overlays, managers no longer need to contact each streamer separately. With Streamcoi, the update goes out across the entire network with just a few clicks. Both managers and streamers benefit from it. Managers' work gets automated, while streamers don't have to take any additional actions - they can simply stream.
Look at what Michał "MOLSI" Łącki, the representative of Team Vitality's VALORANT roster and streamer, had to say: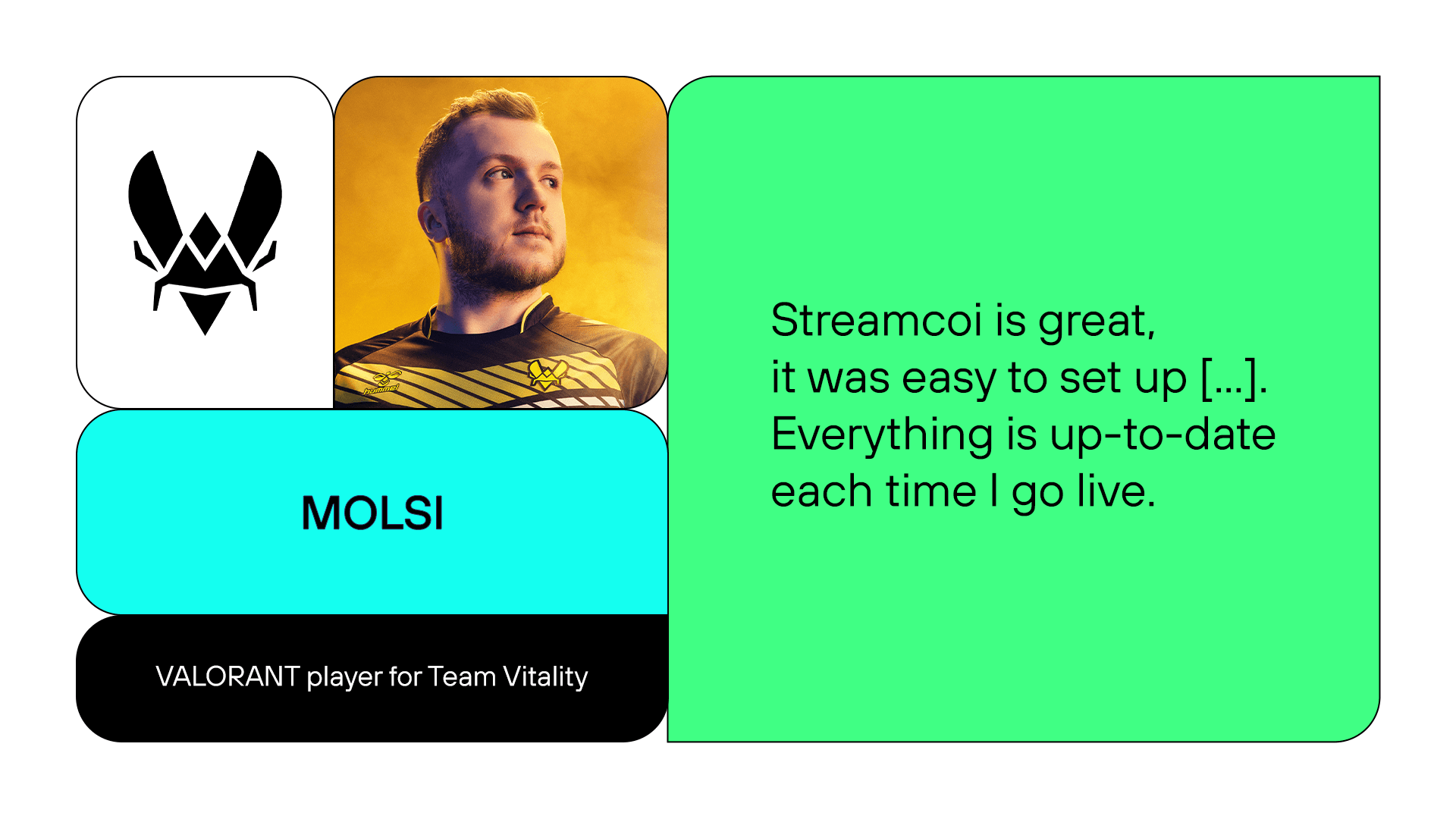 Different esports divisions of Team Vitality have different sponsors and partners. Using Streamcoi, it's easy for managers to set up and assign proper logos to each proplayer who streams. What makes it even better is that it happens in a measurable way. Our technology tracks how many times each logo was viewed by the streamer's audience, and the data is accessible in the dashboard.
Effective promotion of SecretLab
Building brand awareness through streaming is one thing. Another is boosting sales of products and services that Team Vitality's partners provide. Brands cooperating with the French esports club can do so through interactive in-stream campaigns.
Whenever a brand wants to promote through Team Vitality's streamer network, a new campaign can be easily launched. For the organisation, it can be yet another source of income.
Alexandre Carlier, Esports Activation Specialist & Influencer manager at Team Vitality, highlights how Streamcoi influenced his daily work: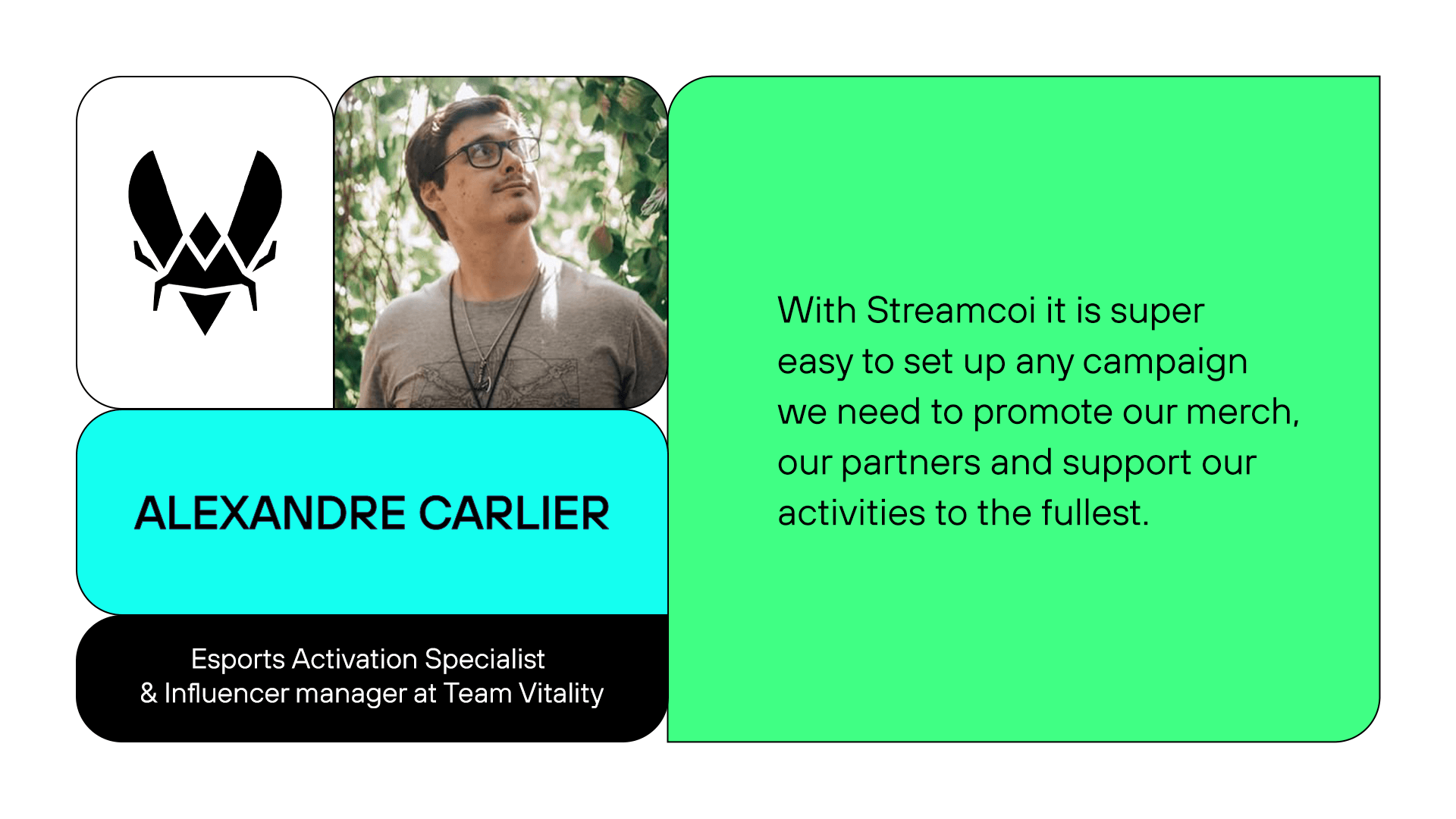 The SecretLab campaign is a great example. It consists of two elements: an animated artwork and a chat message. They appear simultaneously, so whenever the streamer's audience sees the ad, they can simply click the link to visit the SecretLab store and buy a chair.
Campaigns aren't only automatically distributed by Streamcoi. The streamer management tool also gathers real-time stats, so all the data is easily accessible. Team Vitality's managers can skip Excel work and quickly generate a comprehensive report within a few clicks.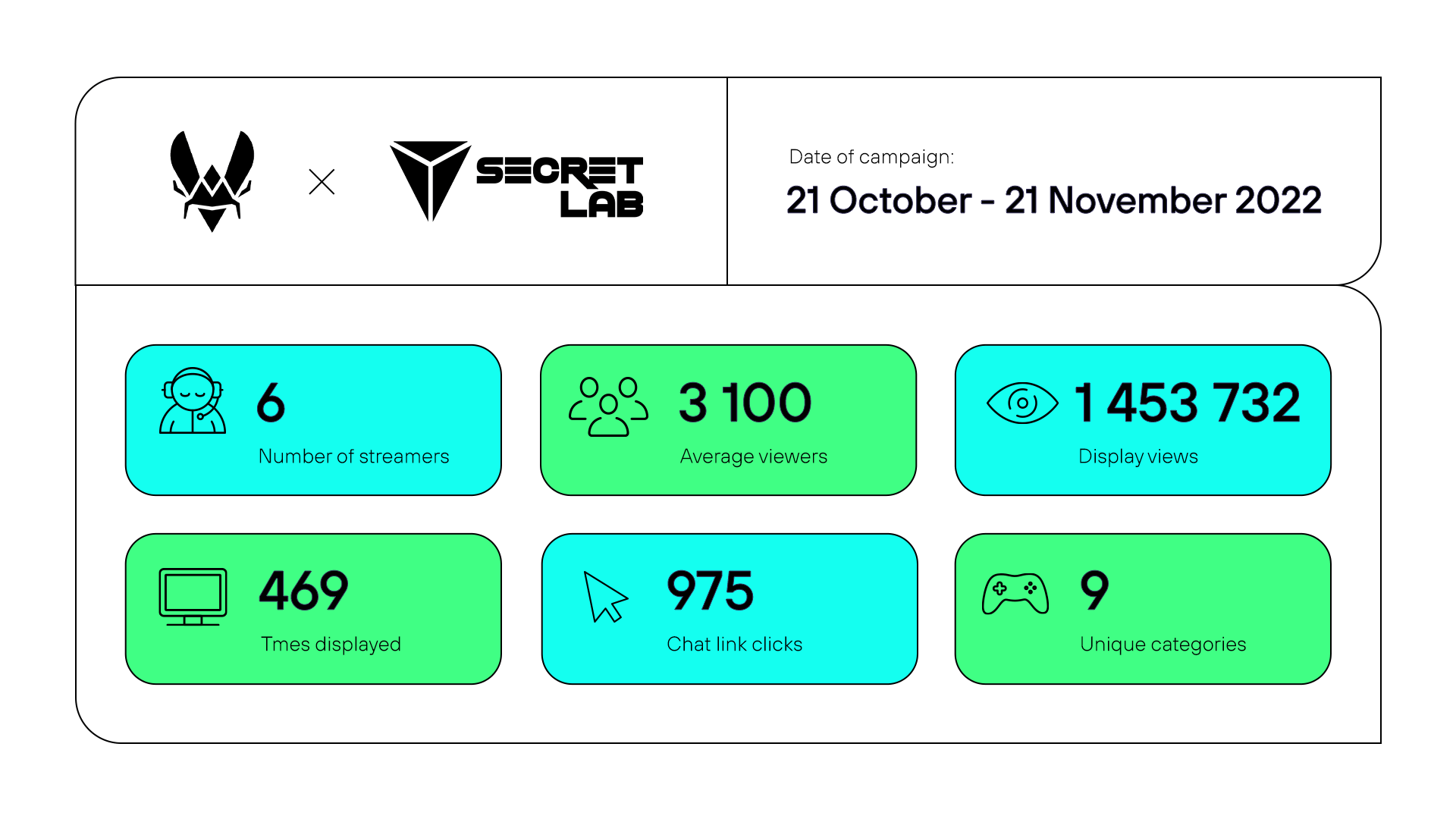 Streamers focused on community
Team Vitality has nearly 20 streamers. They want to play their beloved games and interact with their audience when they go live. Streamcoi helps them do that as they no longer have to manually update content, set up chat messages, prepare reports, or gather clips. It all happens automatically, so they're 100% focused on interacting with the community and the gameplay.
Streamer management made easy
Until now, streamer management was complex and time-consuming for Team Vitality. Streamcoi lets the managers automate existing processes and minimise their workload. On the other hand, streamers can simply start streaming without worrying about technical stuff or manually launching marketing activities. Their lives became much easier.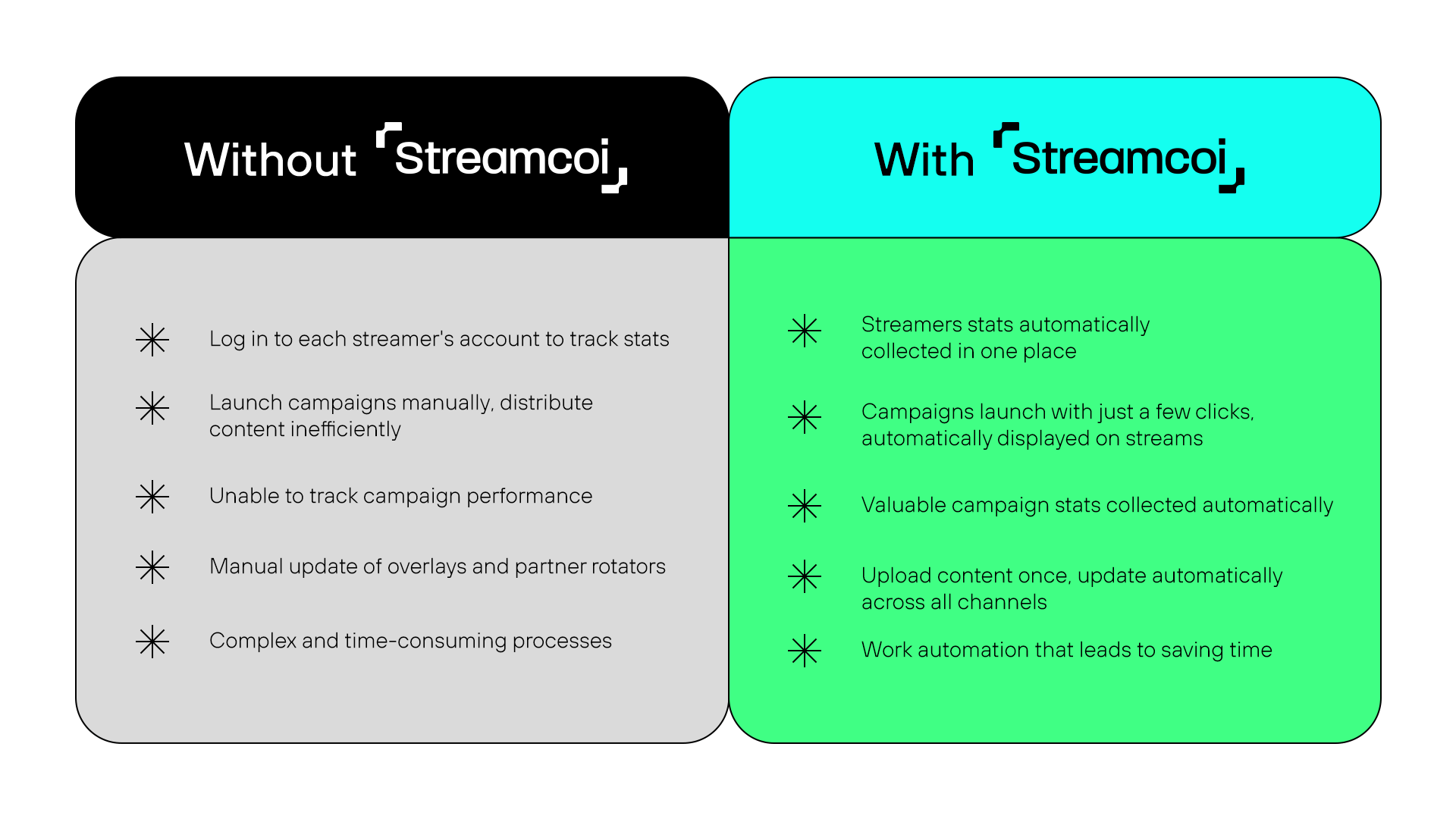 Request a demo to check how Streamcoi can help you manage and monetise streamers
Contact