Giants generated 8.5 million merchandise display views on streams. Using one tool.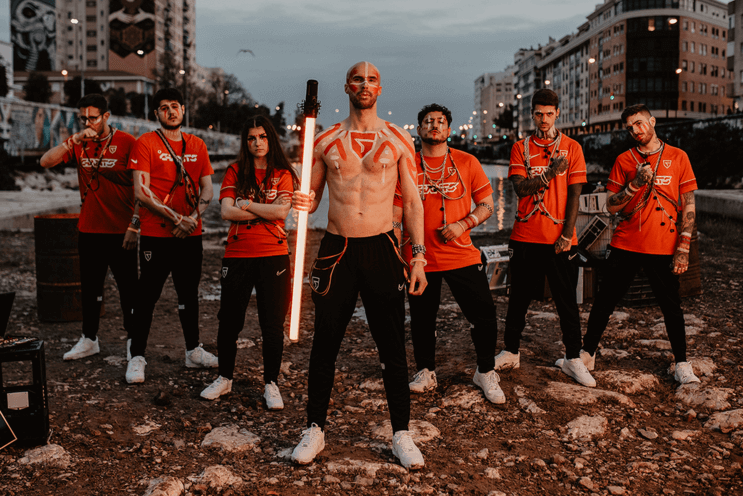 One of the biggest esports club in Spain
There are many esports teams in the world, but when it comes to Spain, Giants is one of the biggest out there. Known for its professionalism, breaking records, players, audience, followers, engagement and sponsors. Giants participates in a dozen of esports games and in more than 30 national and international competitions. The combination of the team, its players and creators has more than 28 million followers across all its social networks.
Esports merchandise is not just a product. It is the symbol of an organisation
Giants decided to rebrand by refreshing their visual identity. One of the most important elements was to design new merchandise. For fans, it is a symbol of belonging to the team and a chance to directly support the organisation financially. Considering it, the challenge is not only to present new products, but also to get fans on board in an engaging way. What's the right solution? Live stream campaigns.
Live streaming as an effective method of communicating with fans
No one is a better ambassador for an esports organisation than its members. Giants invited 24 content creators and streamers to produce live video content on the days of the rebranding announcement and promote the new merch.
But how do you make sure the new merch is well-represented across all live streams at the same time?
Automation is the key
Giants decided to use Streamcoi, a platform that automates streamer management and monetisation. They set up 5 automated campaigns, each promoting a different product in their online shop. Streamers added to the Giants dashboard did not have to do anything, and one manager set up animated artworks and engaging chat messages that appeared automatically a few times per hour. In total, merchandise animations appeared on the streams 6,765 times.
Real numbers
Until now, it has been difficult to measure exact numbers of campaigns displayed on multiple Twitch channels, with video streaming platforms only showing general numbers like hours watched, or average viewers.
With Streamcoi's reports, Giants was able to monitor the progress of all campaigns in real time and measure accurate data not only on entire streams, but on detailed product views. In total, all displays generated 8.5 individual million views and the link shown in the chat generated 23,350 clicks, which translated into a significant increase in sales for the Giants' online shop.

At Giants, we are constantly working on applying the best technological solutions to improve the experience of our fans. We have many players and content creators. Thanks to Streamcoi, we can bring together their respective communities around a same concept, passion for Giants

Working with streamers can be difficult and time-consuming. Thanks to Streamcoi, we can coordinate several campaigns simultaneously with a few clicks. In addition, we have information about the campaigns in real-time, which also alleviates reporting to our partners.

Streamcoi makes running promotions much easier. The fans find pop-ups on the screen fun.

I can create content without worries, it's a great benefit.
Request a demo to check how Streamcoi can help you manage and monetise streamers
Contact