interviews
Streamer managers around the world | Michal Galewski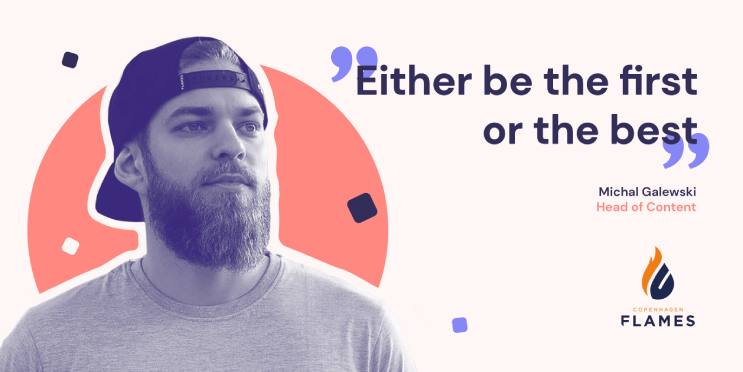 Recently, we've had an opportunity to discuss what you need to do in order to become a successful streamer manager, what the requirements for achieving success in esports are, and what opportunities the industry presents with Michal Galewski, the Head of Content at Copenhagen Flames.

With a strong background in video game journalism and IT, he joined the team in 2016 and has since risen through the ranks all the way to becoming the co-owner of the project. Having previously worked with Copenhagen Flames' CS:GO, Fortnite and FIFA streamers and esports players, he now assures the organisation creates quality content across all platforms.
When someone asks you what you do for a living, what do you usually say?
My responsibilities include managing and developing our content creation team.  However, I am still very much hands-on, given the size of our company. Esports live shows are what I usually spend the majority of my time on. I do anything that needs to be done, be it graphic design, technical setup, or live production.
I also manage a couple of our business partnerships here at Copenhagen Flames.
Which projects that you have worked on are you most proud of?
I've started and developed the partnership between Copenhagen Flames and Red Bull. This has given us the chance to work on a lot of cool live show projects that I'm very proud of.
We have also made a rap music video for the launch of our merchandise in 2021. That was pretty epic if I can say so myself.
How does one achieve success in the streaming industry?
I usually say that there are 2 ways to create a successful stream or any other live show. You either need to show very high skill or be entertaining to watch. These rules also apply to VOD content. The one distinctive feature of streaming is the "live" element. This can be used for creating interaction with the audience, or to show them something that's a "world's first". Take a look at speedruns and esports. Watching a world record happen right in front of you, or seeing your team struggle and win (or lose) live - the rush of excitement you get from that is so much more intense than scrubbing through a prerecorded or edited VOD!
How many streamers are you currently working with?
At Copenhagen Flames we currently have 4-5 "streamers" and 5-10 "players that stream". In the lifetime of Copenhagen Flames, we must have gone through at least 40-50 different content creators of both types. Some of the biggest streamers and YouTubers in Denmark, like mimi, T0nse, fruity and Zrool, have all been a part of the team at some point. Currently, Gedde and RamziiN are some of our big creators.
That sounds like an amazing job. How could someone get a job like yours?
How does one get my job?... Right now, esports is in a place where you need to be there because you're really passionate and want to make a difference, not because of the big salary. Don't get me wrong, you do get paid, but you need to be okay with your friends working less and earning more. 
BUT
If you are prepared for that and are ready to take on some responsibility, it's an industry where you can fly to the top really quickly. There are so many opportunities in esports, regardless of whether you're into content, marketing, management, economics, or anything else.
I myself have worked my way up from being the very first content creator at Copenhagen Flames, to being its co-owner 2-3 years later. Streaming and esports are still very much new. The tech and entertainment industries are developing so fast, that if you start working in esports now you still can make an actual difference. You can be a part of making the industry what you want it to be. In the short time I've been in esports I've done many "world's firsts" when it comes to our content and live shows. You can do the same if you really want to.
I'm sure it is not all as easy as you describe it. Any interesting stories from when you've been starting out that you'd be willing to share?
One interesting story I have is how our live show production idea developed. The only reason it's such a big part of our company now is because, at some point in the past, I had picked up some lucky skills and a general interest in streaming and producing live shows. We took that and tried to create a League of Legends scouting grounds show. It hardly cost us anything. Our Head of Esports, Daniel Vorborg, did the casting and managing, I did the graphics and production, and off we went! We have always liked the idea of "make something big and cool with low budget". 

Later on, we made Hearthstone shows, conducted a Super Smash Bros tournament with the biggest prize pool in Denmark's history, and a lot of other small things where we could be "the first" or "the biggest". Hardly any time passed and we had a line of potential partners wanting to hire us to make shows for them.
It's just a small story about how we went from never planning on making live shows, to it being one of the biggest income streams for Copenhagen Flames. And that is what the esports industry can do for you. If you look at our "Youth Academy", it's the exact same story.
Just go for it. If you think you have a great idea, you see that the market for it is not saturated, and you can either be the best, the first, or the biggest - just go for it!
What are the most difficult aspects of working with streamers?
For me personally, it's the management aspect of it. I've been a talent manager and a player manager (of gear and content) for 4-5 years. And I'm really not good at working with people. I'm much more of a numbers and tech guy. We have recently hired a dedicated Talent Manager, and that has made a big difference for me. Now I can focus on the fun parts of working with players and content creators.
Last question! What advice would you give to someone who wants to start working as a streamer manager?
Make a difference. I see SO many "managers" for players and content creators out there just grabbing money and not making any difference for anyone.
Be there for the streamer. Find the right deals, support them in whatever they do, not just the parts that make you money.
Help your streamers develop their skills, brand and content. Help them sell their work, scour the industry, find what is missing and inform your streamer. If they can tap into that potential, neither of you will regret the effort you've put in.
So many managers out there just take an X amount of their streamer's paycut and the only times they talk is when a contract needs to be negotiated. Never be one of them.
And yes, of course, there are many good managers out there as well, I'm certain of it. But, in Denmark at least, I see a big gap in the industry, one that could be easily filled by a good player/talent management company. If there was a company that was willing to go the extra mile for its talent, it could easily swipe the entire market. Maybe such a company already exists and I have just not heard about them yet.