interviews
Streamer managers around the world | Alejandro Nuñez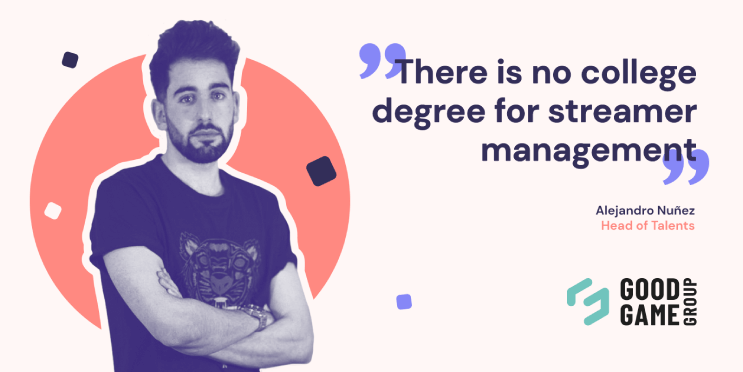 Today we have the pleasure of speaking with Alejandro Nuñez, the Head of Talents in Good Game Group. We discuss what skills one should learn in order to manage content creators, as well as which ones they should abandon as soon as possible. Alejandro also gives a few humbling pieces of advice for anyone who wants to work in the live entertainment industry.
Alejandro has been operating in the Spanish esports ecosystem since 2015 and has worked with such organisations as UCAM Esports Club and, as part of Good Game Group, Giants Gaming, the most successful esports team in the country.
Which projects that you have worked on are you most proud of?
It'd have to be Giants Crew. We have built a group of young and talented streamers, who help us grow our audience day by day and allow us to expand our brand beyond just our competitive, esports side.
How do you utilise streaming in your marketing efforts?
In the marketing business, utilising streamers and the content they create allows us to maintain a much more organic approach to advertising products than traditionally possible. Being able to directly talk to the audience about your product, answer their questions and help them understand what you're offering more clearly is a key factor when conducting certain marketing campaigns.
How many streamers have you worked with until now?
By now, I've worked with more than 30 content creators and players who utilise streaming as a tool to build and enhance their personal brands. 
Any names we should look out for?
I can definitely applaud Th3Antonio and Hitbox for leading the way in League of Legends and Valorant for the Spanish community, but I'm really proud of every single person I got the chance to work with. 
Managing streamers sounds like an amazing job. How does one get into this industry?
Getting into a job like mine is very rare. It's a position created as a result of the development of the streaming industry and there is a certain skill set required to perform well, one that can't really be taught at any university. There is no college degree for streamer management. But, as long as you are able and willing to constantly develop your interpersonal skills and grow your knowledge of the esports and video gaming world, more opportunities will start appearing around you!
Looking back, is there anything you would like to change about how your career has developed?
As I've mentioned, it's not a job I've been actively looking for. But, as it turned out, I happened to be the best person to do it from a skillset perspective. And now I really love what I'm doing.
I'm really happy with how my career has developed. The fact that I get to meet and work with so many talented and creative individuals, who strive daily to improve not only for themselves, but for their fans as well, is incredibly rewarding.
What, in your opinion, are the most challenging aspects of managing content creators?
As long as you can adapt and have a really open approach I think everybody can handle it. Patience is key. Being able to work and perform under a lot of pressure is a must. After all, you are managing people who come from all around the world! You need to earn both their respect and trust to be able to create and work together effectively. It is something that you will definitely have to develop during your career.
One last question! What advice would you give to someone looking to start working with content creators?
My advice would be to try not to look at streamers and content creators as idols or celebrities. You should be treating them more like your colleagues. In the end, you have similar goals and you need each other to achieve them. As soon as you realise that you are in fact part of a team, everything will be much easier!